Let us apologize for last week's omission of 'Under Cover'. Our server wasn't feeling up to the task of working properly, so we were without Popwreckoning for about a day and a half. This is what you would have gotten last Wednesday:
It was made abundantly clear that my first order of business regarding this week's 'Under Cover' was to blatantly state that this edition is not at all, in the least, the work of the fabulous Mona Sheikh. She's got the week off from her wonderful feature and so I, EIC Jessica, decided to fill in and bring you some Britney. Love her or hate her, homegirl has made a definite impact on the music industry. I was shocked at the sheer number of bands who covers this poptart's musical fluff. Personally, I'm fascinated by BritBrit — perhaps more fascinated by how many people are fascinated with her (meta!) — and so I present you with the best of Britney covers. It's Britney, bitch.
"…Baby One More Time"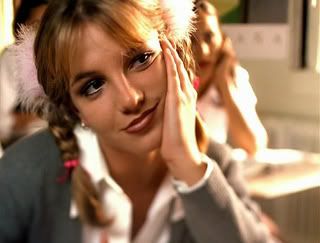 Believe it or not, there was a time when people didn't know the name Britney Spears – and didn't automatically associate that name with the kind of trainwreck that has come to engulf pretty, young, female celebrities these days (see also: Lindsay Lohan, Tara Reid, Nicole Richie). It's common knowledge that Britney got her start on "The Mickey Mouse Show", but it was until the October 2008 release of her debut single, "…Baby One More Time", that the Kentwood, Louisiana blonde bombshell became a household name as her single shot to number 1 around the world, not at all hurt by the semi-provocative video featuring sexy Catholic school girls. Say what you will about bubblegum pop, but this syrupy sweet Spears single can still stuck in your head with the very first "Oh baby, baby."
Britney Spears – "…Baby One More Time"
–
Annie Bethancourt (live)

Indie folk singer Annie Bethancourt, who calls Portland, Oregon home, strips down Britney's debut hit and opts to play it lives with her acoustic guitar. When Bethancourt sings "When I'm not with you / I lose my mind," with deep and syrupy vocals on this gorgeous cover, you really believe it's true. The tone of Bethancourt's rendition takes on a slightly angered tone and towards the end incorporates a bit too much flare, which takes a turn towards strange with awkward and warbling vocals. Not my favorite rendition, but definitely an interesting minimalistic take on Spears' first (of only two) #1 hit single.
Annie Bethancourt – "…Baby One More Time" (Britney Spears)
–
The Dresden Dolls (live)

Cabaret punk isn't quite my thing (I prefer my punk variations with gypsy leanings a la Gogol Bordello), but the opening piano on The Dresden Dolls' cover of "…Baby One More Time" is so thick and heavy, that I'm just shocked that they're playing the same track that launched Britney to fame. Front woman Amanda Palmer's deep vocals give a strange twist to this pop ditty. It's obviously darker and actually tortured as opposed to Britney's school girl despair when she tells the object of her affection, "The loneliness is killing me." Not the cover song I'd have on repeat, but a wonderful shake up from fluffy pop.
The Dresden Dolls – "…Baby One More Time" (Britney Spears)
website | myspace |Â amanda palmer @ spiegeltent | Who Killed Amanda Palmer review
–
Travis (live)

Perhaps the most well done cover of Britney's catalyst to eternal fame, the Brit blokes of Travis take a minimalist approach with the song in live performances, breaking out the acoustic guitars and harmonizing on the choruses, even jokingly throwing in a falsetto to show the audience they understand the absurdity of their song choice.
Travis – "…Baby One More Time" (Britney Spears)
If it wasn't too painful and you'd all be able to stand some more Britney in your life (at least covers of her hits), I've got more up my sleeve. Leave some comments and we can make it happen.